This is a little gathering place for things of tentacly-nature. The name "Tentacular Spectacular" is by
unvarnishedtale
after some brainstorming on twitter. There were so many good names (including "Love Me Tendril", "Hold Me in Your Tentacular Suckery Arms", "Blowjobs and Bothria", "Squid Roe", and "Squiddy Love") that I think it's fair to say more tentacles are in the future. The beautiful artwork for the banner below in by
platina
-- this doesn't do it justice. At all!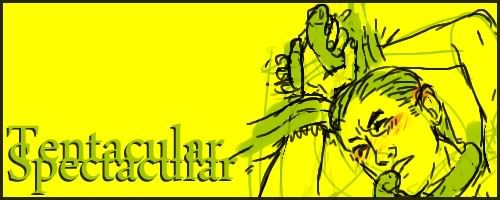 WORDS OF NOTE
Every fest needs a dictionary. Or, this one does. Add new words or definitions to the list in the comments or on twitter!
cocktacle
- there's a cock, and there's a tentacle, and then there's a
cocktacle
(
platina
). Incorrectly defined by urban dictionary
here
.
tentacuddles
- cuddling with tentacles!
tentacrural
- when thighs get the tentacle-love they deserve. a beautiful word by
persephone_il
.
tentacuffs
- tentacles used as cuffs; thought up by
shaded_sun
.
tentacollar
- a strip of tentacle against an adam's apple. so sweet. so restricting.
Brace Yourself
Let's get down to business with this
primer
found by
platina
:

A blathenoth will stimulate a victim for up to six hours (whoa nelly!), but don't worry, the extraction team won't let Dana here go that long, right boys?
I believe this one is from 4chan.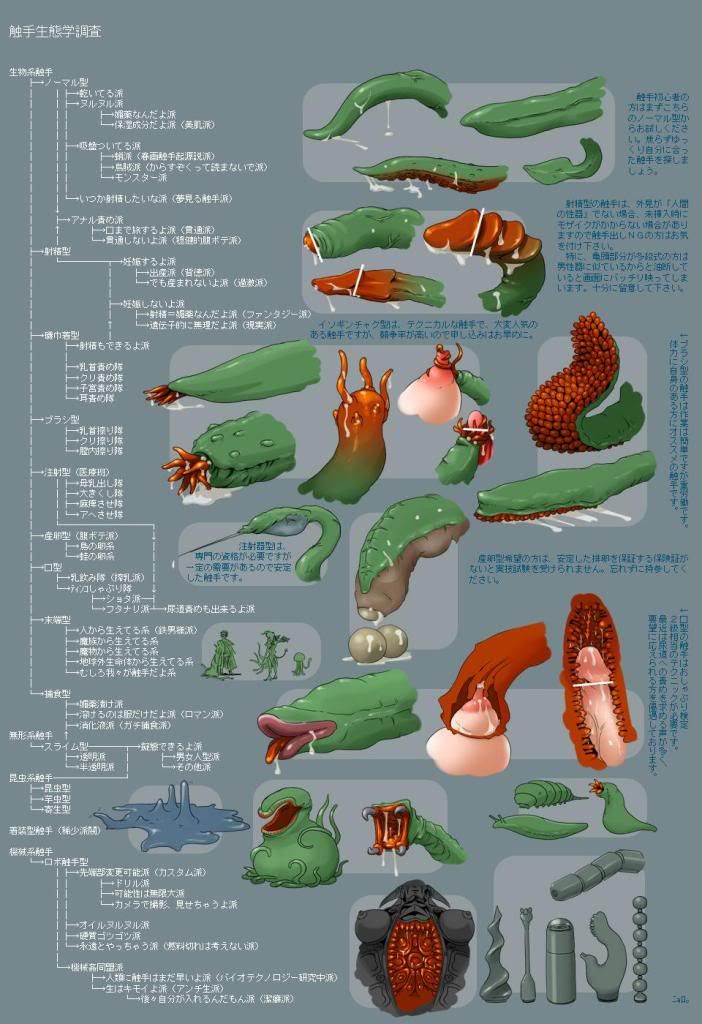 What Tentacle Fest Isn't
I did loads of research for Tentacular Spectacular and happened to stumble across lots of things I wish I hadn't stumbled across. Share my pain!
*
...one in her mouth and 3 or four in her cooter will do the job I think.
*
12" long, bright forest green with 1/4" yellowish tip, royal blue along shaft.
And there are more (oh no) to add later when I'm not being dragged out of the house.
Ideas:
*
kinkmemepost
- "Eames has a tendency to invade Arthur's dreams. Finally Arthur gets fed up with and decides to punish Eames. The next time Eames invades Arthur's dream he finds himself captured and fucked by tentacles, while Arthur watches."
Spectacularly Tentacly Fic and Art:
* (NEW as of Sept 23)
Wide Eyes
by
night_reveals
- NC-17 - 5.1k - non-con - Arthur/Eames
*
Stranger Things Than Known By Man
by
cthonical
- NC-17 - 4k - "If Eames had never told, Arthur never would have guessed. But now he knows what's really under Eames's skin, he can't stop thinking about it."
* A variety of art by
platina
, including:

and

and ((
HERE
)).
* Pokemon/Inception crossover by
anamuan
in the
comments
.
* Inception: Eames' fingers as !!MOVING!! tentacles by
paperflower86
in the comments ((
HERE
)).
* Inception A/E Drabble by
adelaide_rain
in the comments ((
HERE
)).
*
stuffed like a prized pheasant at a royal feast
by
phenylic
- A/E/The Thing - NC-17 - short - "...He's aware that he's spread out on his knees on a bed, his hands bound behind his back with something a hell of a lot smoother than twine..."
*
Pokemon/Inception crossover
by ~anonwinkwink - NC-17 - 2/2 - "In dreams, though, in dreams Arthur wants this. Wants to fight and lose. He wants to be held down and forced open and when he comes, he doesn't want there to be anything he can do about it except take it. Eames is the first person in a long time he's let in on this little secret. Eames guards it more closely than he guards his real name."
*
Catboy!Arthur x Tentacle!Eames
by
adelaide_rain
- NC-17 - 6/6 - "'I'm a freak,' Eames whispers, glaring at his coffee and biting down on his plush bottom lip, which is also quite distracting. Eames is possibly the least freakish person Arthur's ever seen."
*
a tentacular fragment
-- Telescopic Text by
viva_gloria
.
*
Suck Me In
by
persephone_il
- NC-17 - In which Arthur's restless, Eames wants to help, and dream architecture is put to startling uses.
EVERYONE START WRITING AND DRAWING AND ALL THE THINGS
Just so everyone is clear: Fat Cock Vivant and Ribaldry&Rage are still on! Time for some muli-tasking on my part. :)